Welcome!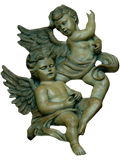 The Monastery Restaurant, located in the heart of Downtown Norfolk is one of Norfolk's historic restaurants and has been serving delicious European cuisine for over 25 years. Behind the Monastery's unsuspecting exterior brick and stained glass facade awaits a genuine European experience. The quaint European atmosphere immediately transports you from the daily hustle and bustle to a serene European retreat. Upon entering, the aromas of freshly baked bread, cheeses, and wines tantalize your senses. We have something for everyone, whether you are having drinks with coworkers , dinner with family, or looking for a romantic evening with someone special. Additionally we have multiple rooms to accommodate banquets and private parties. Please feel free to contact us if you would like to discuss an up and coming event or to make reservations.
Our Goose Is Cooked
Offer begins November 1st - Fridays and Saturdays Only (see details)
The Monastery Restaurant is bringing back a winter favorite, our award winning slow roasted and succulent goose. The entrée comes with Slavic sauerkraut and dumplings. Since supplies are limited please call ahead to reserve your portion. Weekday accommodations can be made for large parties, please provide at least a one week's notice so we can accommodate.

Hours
Dinner
Tuesday-Thursday 5pm-9:30
Friday and Saturday 5pm-Midnight
Sunday 5pm-9:30
Online Reservations